Informed design decisions need empirical evidence. That involves deep analysis into the way your models handle real-world conditions.
In the past, you would have obtained that analysis by engaging an expert to run simulation studies of your design. The expert would then return a report. You would respond by tweaking your design, sending it back to the expert, and so on. In short, the technology and the processes for creating robust models was out there, as long as you had plenty of time and money.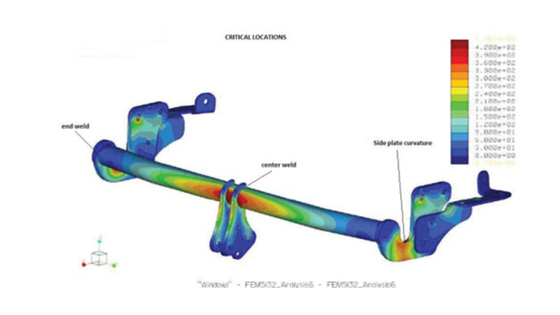 Trailer hitch simulation performed in Creo
But with Creo, you can perform much of the analysis work yourself. Use your 3D CAD system to run simulations like FEA, CFD, and more. Then, quickly test and update models yourself, even several times in a single day.
If you want to save time, and engineer designs that you can be confident in, try these Creo extensions for analysis:
Creo Simulate
Creo Simulate includes a comprehensive set of finite element analysis (FEA) capabilities for meshing, structural, and thermal analysis, post processing, and optimization.
How much time does it save? Boston Engineering used simulations to improve their iteration time from two weeks to five minutes. Two weeks. Down to five minutes.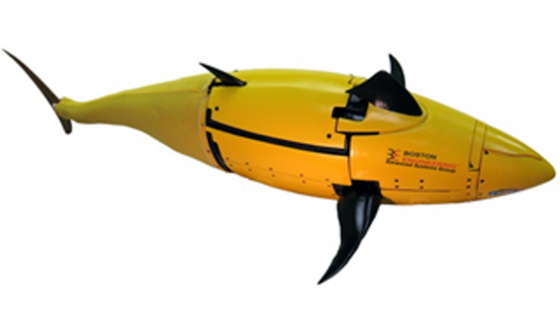 Boston Engineering's 5-foot-long robo-tuna, created with Creo
Granted, not everyone is building mechanical fish. But imagine the savings you garner from development cycles shortened by a mere 10-20%.
Advanced Simulation Extension
Let's go a step beyond basic simulation. Say you want to study the effects of various stresses on a model. The Creo Advanced Simulation Extension does that both as a standalone application and as an extension to Creo. Either way, your structural analysis just got upgraded.
The linear buckling structural analysis shows your part making a cringe-worthy crunch under pressure? The necessary changes are only a few clicks away. Run the simulation again and check the results. Creo and the Advanced Simulation Extension gives you clear-cut charts and easy-to-read visuals about the part performance and results to help you cut down on iterations before manufacturing.
Mold Analysis Extension
Careful design of plastic molds, using tools like Creo Complete Mold Design Extension, help you create more precise molds for accurate, timely production lines. But simulating a plastic mold surely isn't necessary, is it?

What happens when the molten material doesn't flow as equally as you expect? A half-finished product. You've already created the mold, only to scrap it and go back to the design stage. Maybe the next attempt will show better flow contribution at each gate. Or it won't. And you don't even know yet if the problem is the molten material or the mold.


The Creo Mold Analysis Extension erases that scrap and stress. Run the simulation and use the color-coded analysis to see exactly where material is flowing well and where it's lagging or stuck. Make changes in the material or the mold and rerun the test for instant results.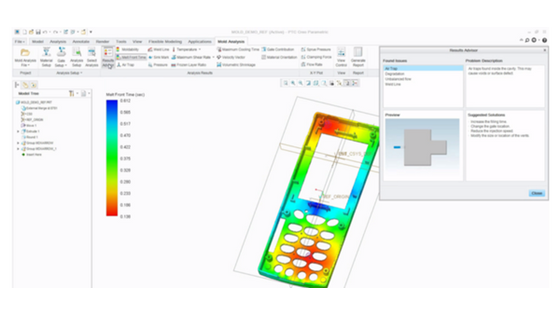 Mold analysis performed in Creo
Creo Flow Analysis (Available in Creo 5.0)
Creo now offers engineers the ability to evaluate how liquids and gasses flow past your model. The new Creo flow analysis packages provide a complete set of CFD tools build specifically for design engineers. And there are advanced packages for the analysts too.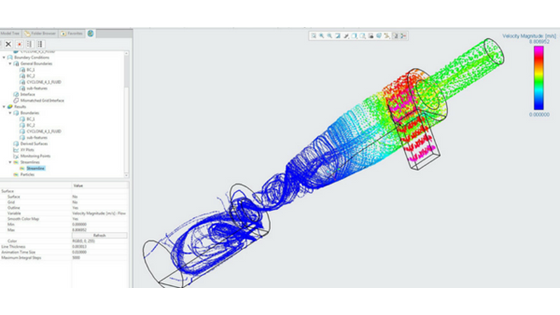 Flow analysis underway in Creo
Reduce the work, waste, and cash required to build and market your next product. Before you start planning another design and prototype cycle, investigate these Creo extensions to see how you can speed up your development efforts with more insightful analysis. To find out more, download our free infographic, Why Your Business Benefits When Design Engineers Use Simulation.